Recipes
Read the recipes below for some great ideas about how to use Summer's Gold Honey in your cooking.
Have a Summer's Gold Honey recipe you want to share? Click the button below!

Banana Oat Cookies
By: Amy Russell Dell
Ingredients:
1 + 1/2 cups uncooked oats
1 cup ripe bananas mashed
2TBSP honey
Directions:
Mix these main ingredients well and let sit to thicken up at least half an hour. Drop by spoonful on parchment lined baking sheet. Bake at 325°f for 5-8 mins until they are lightly brown.
*Optional: Add 1/4 cup berries or chocolate chips to mix if desired
---
Carrot Cake
This is a great carrot cake recipe.
https://www.allrecipes.com/recipe/52583/honey-carrot-cake/
I made two 8-inch round carrot cakes. I started checking done with a toothpick after 30 minutes. After the cakes cooled I cut each cake in half. I iced the cakes. Made bunny ears out of paper. Used the paper Bunny ears and some penny candies for the eyes and nose to decorate the face.
I think this makes a great Easter Dessert.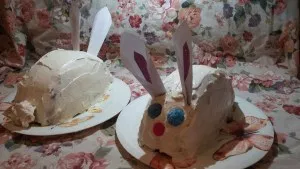 ---
Cinnamon Honey Butter
By: Cheryl Bondy
Ingredients:
1cup of honey (liquid or solid)
1 cup of butter
1 cup of icing sugar
1-2 tbsp of cinnamon
(Adjust any of the ingredients to suit your tastes).
Directions:
Cream all together. Great on waffles, on toast.
---
Cinnamon Roll Pulls
By: Cheryl Bondy
Ingredients:
1 unsliced round loaf sourdough bread
2 tbsp Cinnamon
1/2 cup white sugar
1-2 Tbsp milk
1cup powder sugar
Directions:
Preheat oven to 350 degrees.
Make honey butter
Cut the bread lengthwise into 1/2″ slices, without cutting through the bottom crust. Spread vanilla honey butter in between slices. Rotate the bread 90 degrees and slice the bread again into 1/2″ pieces, without cutting through the bottom crust. Spread more vanilla honey butter in between new cuts. This doesn't need to be perfect – just make sure there is lots of butter in between all the cuts. Combine sugar and cinnamon. Generously sprinkle in between all cuts. (You may have extra butter and cinnamon sugar. It will just depend on how large your bread loaf is.)
Wrap in foil; place on a baking sheet. Bake at 350 degrees for 25-30 minutes, until bread is warm. Unwrap cinnamon bread and place on serving platter. Combine powdered sugar and milk – adding milk until you get the consistency desired. Drizzle icing over bread and serve immediately.
---
Honey Garlic Sauce
Great on all meats I've used it with chicken, shrimp, steak
By: Nicole Chevalier
Ingredients:
1/4 cup soya sauce reduced sodium is fine
1/3 cup honey
1 tbsp minced garlic. I use a jar of garlic
Optional: 1 tsp fresh or ground ginger
---
Honey Salmon
By: Jane Davidson Snider
Ingredients:
1300 grams salmon fillet, pin bones removed approx. 1300 grams
1 tbsp. olive oil
2 garlic cloves minced
2 tbsp. Summer's Gold Honey
salt and pepper to taste
1/2 cup shelled pistachios chopped by hand or in food processor
1 lemon, cut into wedges to serve with cooked salmon
Instructions
Place a rack in the middle of your oven and preheat it to 375F. Line baking sheet with parchment paper.
Pat the salmon dry. And rub flesh with olive oil.
In a small bowl, combine minced garlic cloves and honey, spread over salmon.
Season with salt and pepper.
Press chopped pistachios onto salmon flesh.
Directions:
Bake in oven until flesh flakes easily about 15 minutes.
Remove from oven and let rest for 5 min. before serving.
Recipe Notes
Keep in mind that the fish continues to cook when its removed from the oven, so make sure to take it out sooner rather than later.
---
Honey, Yogurt & Granola
By: Jane Davidson-Snider
Summer's Gold Honey with fresh made yogurt and summer's gold honey granola
Ingredients
1 cup raw almonds
1 cup raw cashews
1/3 cup raw pumpkin seeds
1/3 cup raw sunflower seeds
¼ cup unsweetened coconut flakes
¼ cup coconut oil
1/3 cup Summer's Gold
1 tsp. pure vanilla
Pinch of sea salt
2 tsp. ground cinnamon
3/4 cup dried cranberries or raisins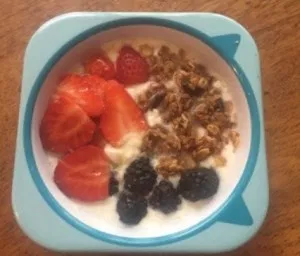 Directions:
Preheat oven to 275 °F.
In a food processor or blender, add almonds, cashews, and coconut flakes to chop into small pieces. Do not over blend.
Heat coconut oil, honey, cinnamon and salt over medium high heat in a large saucepan, for about 3-5 minutes. Remove from heat and stir in vanilla. Then add seeds, nuts and coconut flakes and stir to coat.
Spread granola mixture evenly onto a baking sheet lined with parchment paper.
Bake for 20-25 minutes or until lightly browned. Remove from oven and add dried cranberries, may need to press into granola mixture.
Allow to cool for about 20 minutes or until hardened. Break apart granola. Store in an airtight container or mason jar for up to 2 weeks.
Our favourite instant pot Summer's Gold Honey Yogurt – best yogurt in the world
---
Meatballs
By: Amanda D'Alessandro
Ingredients:
Ground meat
Bread crumbs
Seasoned parmesan cheese
Honey
Directions:
Mix make ball shaped and cook at 350 for 45 mins
---
Pecan Pie
Ingredients:
1/4 cup sugar
3 tablespoons all-purpose flour (3 tablespoons All purpose flour Blend – Gluten Free)
3 eggs, lightly beaten
1 cup Summer's Gold Honey
1/3 cup butter, melted
1 teaspoon vanilla extract
1/4 teaspoon salt
1 cup chopped pecans
1 unbaked pastry shell (9 inches)
1/2 cup pecan halves
Directions:
If you want a GLUTEN FREE Pie use a all purpose flour blend that is Gluten Free instead of all-purpose flour and a Gluten Free pie crust.
Blind bake the pie crust. In a small bowl, combine sugar and flour. Stir in the eggs, Summer's Gold Honey, butter, vanilla and salt. Add chopped pecans and mix well. Pour into pastry shell. Arrange pecan halves around edge and center of pie.
Cover edges loosely with foil. Bake at 350° for 25 minutes. Remove foil; bake 20-25 minutes longer or until a knife inserted near the center comes out clean. Cool on a wire rack. Store in the refrigerator. Yield: 6-8 servings.
Nutritional Facts:
1 each: 529 calories, 32g fat (10g saturated fat), 105mg cholesterol, 276mg sodium, 60g carbohydrate (41g sugars, 2g fiber), 6g protein.
Tenderflake Pie Crusts:
Ingredients:
5 1⁄2cups all-purpose flour
2teaspoons salt
1lb Tenderflake lard
1 egg, stirred slightly
1tablespoon vinegar
7⁄8cup cold water
Directions:
Stir the flour and salt together.
Cut in the lard with a pastry blender or 2 knives until the shortening is in pea size pieces.
In a measuring cup, combine the egg and vinegar.
Add enough cold water to make one cup.
Stir the liquid into the flour mixture, adding just enough to make the dough cling together.
Stir the water in with a wooden spoon until mixed thoroughly, then gather the dough into a ball, and separate into 6 portions.
Cover and refrigerate for one hour, you can chill overnight, covered, providing you leave it at room temp for 15 mins before rolling.
Lightly flour surface and roll into circles, then pat the dough into pie pans, following pie recipes. Be careful not to stretch the dough.
This is also a good dough for tarts, but you will want to roll the dough a little thicker than you would for pies.
Yield: 6 pie shells or 3 double pie shells
Ready In: 10 mins.
To Blind Bake Crust, preheat oven to 425°F. With your unbaked pie crust place a large piece of parchment paper and fill with pie weights or dried beans. (I used dried Kidney Beans.) Bake until the edges of the crust are just starting to turn golden, 12 to 15 minutes. Remove parchment paper and pie weights or dried beans. Return the crust to the oven. Bake until the bottom looks dry, another 5 minutes.
Gluten Free Pie Crust
Ingredients:
2 Cups of Robin Hood's All Purpose Flour Blend Gluten Free Flour(or you can use any All Purpose Flour that is Gluten Free)
1/2 Cup Palm Shortening, Coconut Oil (chilled), or Real Butter
1 Egg
2/3 Cup Water (approx. depending on consistency – add a little at a time – not too wet, not too dry.)
1/2 Teaspoon Salt
2 Teaspoon Sugar
Extra GF Flour or Tapioca Starch for Dusting
Instructions:
Mix together the Gluten Free Flour along with Salt & Sugar.
Blend in Shortening (or butter) with Pastry Tool or Fork, and mix until crumbly.
Add in Egg and mix until well incorporated – mixture will still be crumbly.
Add Water by stirring in 1 Tablespoon at a time until dough holds together for rolling – better a little moist, then too dry.
Cut Mixture in Half and roll into 2 balls (one for each crust or topping).
Shape dough balls into disc with floured hands and place onto a sheet of floured parchment.
Cover with an additional sheet of parchment. Roll crust out to slightly larger than your pie tin.
Remove top parchment paper and slip hand gently under the bottom paper to flip into pie tin. Carefully peeling back, the paper as you press it into the pan.
Crimp edges of crust to make a decorative edge… or top with an additional crust layer after adding your pie filling.
Pierce bottom slightly with fork (and slit top layer with knife to vent).
Follow the pie recipe you are using for bake time and temperature.
Notes:
This crust can be prepared in advance & stored in the fridge or freezer (empty or filled) until you are ready to bake.
Tips for Pre-Baking or Par-Baking:
Pre-Bake for approx. 15 minutes at 425 degrees if you need a pre-baked pie crust for your recipe.
Blind Bake the crust for 5-7 minutes to firm up the crust prior to adding your filling
To prevent the crust from shrinking, add dry beans or pie weights during baking time.
Nutrition:
Serving Size: 1 Crust
Calories: 115
---
Soft Honey Cookies
By: Elizabeth Imeson Innes
Ingredients:
1/4 cup sugar
2 tablespoons canola oil
1 large egg
3 tablespoons honey
3/4 teaspoon vanilla extract
1 cup plus 2 tablespoons all-purpose flour
1/4 teaspoon baking powder
1/4 teaspoon ground cinnamon
1/8 teaspoon salt
Directions:
In a small bowl, beat sugar and oil until blended. Beat in egg; beat in honey and vanilla. Combine the flour, baking powder, cinnamon and salt; gradually add to sugar mixture and mix well (dough will be stiff). Cover and refrigerate for at least 2 hours.Drop dough by tablespoonfuls 2 in. apart onto a greased baking sheet. Bake at 350° for 8-10 minutes or until bottoms are lightly browned. Cool for 1 minute before removing from pan to a wire rack. Store in an airtight container. Yield: 16 cookies.